GET YOUR MONEY




TO WORK HARDER
2.25% APY* first-year Go Savings
Get paid up to 2 days early
30,000 fee free ATMs nationwide
24/7 mobile app account access
Phone support from real people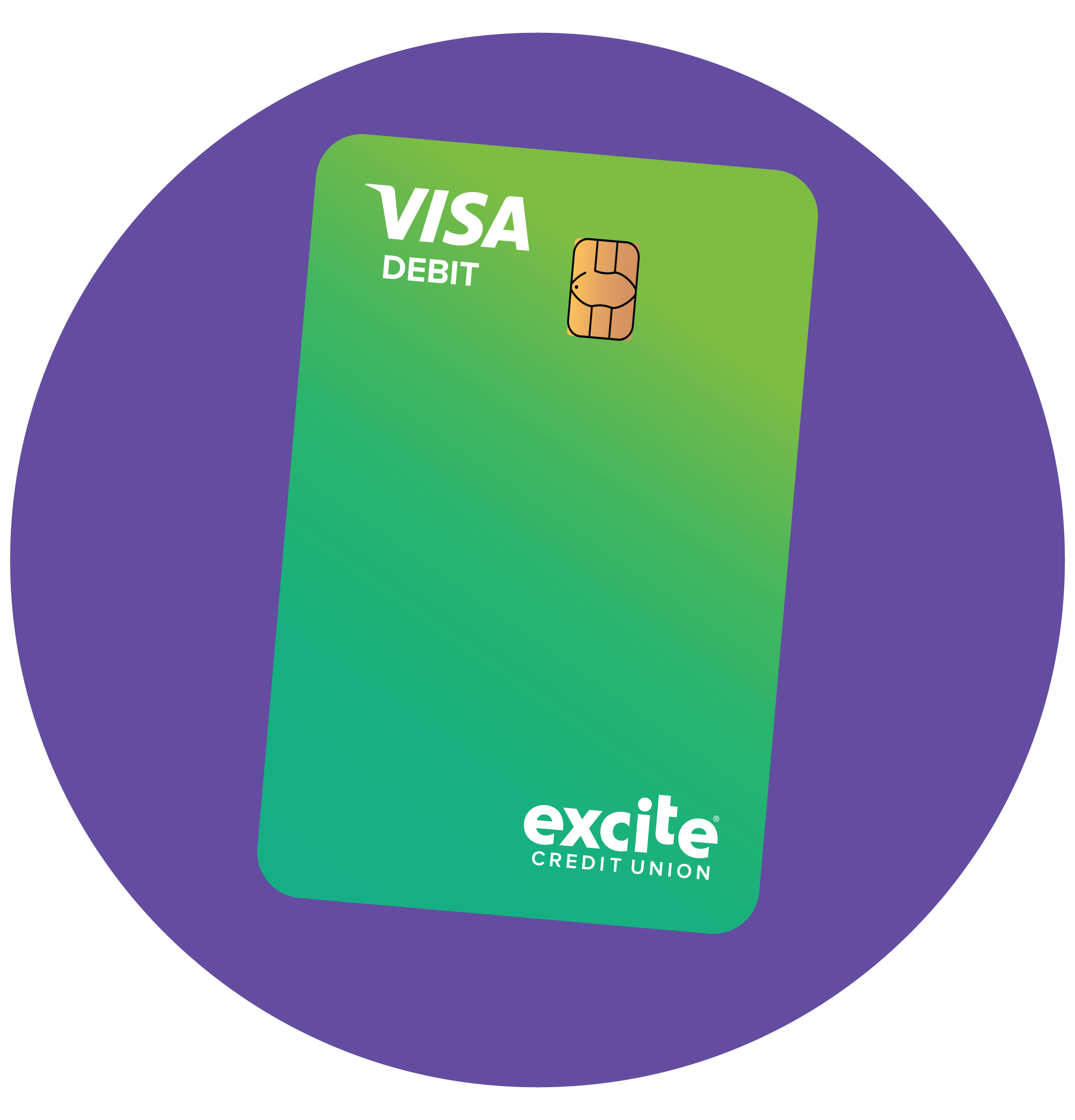 A Membership That Matters.
---
Equipped with a stunning card, an easy-to-use app, and tons of perks, our Go Checking and Savings Accounts are made for those on the go.
Get more flow out of your cash flow.
Join over 43,000+ Members who trust Excite.
Legal Mumbo Jumbo
* Must be eligible for membership and open a share (Go) saving account in order to join Excite Credit Union® and obtain any product or service. A minimum opening deposit of $10 includes the par value of a credit union share of $5 which is required to maintain membership at Excite Credit Union. $50 Go Checking Bonus is available for one primary account holder of a Go Checking account opened between October 1, 2021 and December 31, 2021. $50 Go Checking Bonus paid within 120 days of account opening if (1) Go Checking account is opened with at least $25, (2) Member establishes a minimum of $500 combined monthly recurring direct deposits into account of net pay, payroll, pension, or government benefits. Recurring transfers or deposits from other sources, such as other accounts at Excite or accounts at other institutions, do not qualify. (3) Member uses Excite Debit Card to make 25 or more purchase transactions within two months after account opening. Offer excludes Youth, FreshStart, JumpStart, Business and any secondary checking account. Fees and other restrictions may apply.
Auto Loan: $150 Auto Loan Bonus is available for auto loan purchase or externally refinanced autos funded between October 1, 2021 and December 31, 2021. Refinance must be from another financial institution to be eligible for this promotion, current Excite auto loan refinance are excluded. Auto Loan Bonus will be deposited to the primary borrower's Excite savings account at time of funding. One-time bonus payout per vehicle only. Offer excludes auto loans financed indirectly through auto dealership.

Credit Card: $150 Credit Card Bonus is available for new credit cards opened between October 1, 2021 and December 31, 2021. Requires $250 net purchases within 60 days of credit card opening. Credit Card Bonus will be applied as a rebate on the credit card statement on or before March 31, 2022. Offer excludes Secure Visa Platinum, Business Cash Reward, Line Increase and Excite Credit Card Transfers.
All Excite CU employees and board members are excluded from the campaign bonuses. Taxes on bonuses, if any, are the recipient's responsibility. Excite complies with federal and state tax reporting laws. The campaign ends on December 31st, 2021 at 11:59 pm.
Federally insured by NCUA